text en francais ==> à vendre


read interesting arguments about military - utility-aircraft

Facts:
DO27 Typ A1 Nr. 329 , extended to "B1" = brakes for Copilot => pictures see "Technik"
airplane 228 built September 1958
Empty weight 1.050
MTOW 1.570 kg
Max. altitude 16.500 ft
min. Take-off-run 60 meters
Big wheels => good for bad fields
6 Persons possible. I have 2 gray leather-benches
"Normal" use: 3 Passengers. Much space for luggage.
Fuel 206 Liters.
New: additional self-installed Fueltank 110 L behind the pilot's seat ==> endurance 5-6 hours => 1.000 km.
needs only 80-87 Octan => tolerating MOGAS
Consumption 43 - 56 L/h
Total Time Airframe Since New: 2.200 hours, since 1971: 1.100
new: tailplane-covering:
ceconite 8/2004.
Average flight-time in the last 31 years 35 hrs/year
Landings since new: 2.850
Prop: next overhaul 2005, if used for commercial purposes.
Next Annual-check april 2005.
isolated fuel gauges (picture: red).

New & additional:
- suction (normal DO27 doesn't have suction)
- Strobes at wingtips (normal DO27 doesn't have strobes)
- ELT
New: Airplane-batteries 24 V
New: Seatbelts (2001)
New: Windows pilotside and in passenger-compartment left side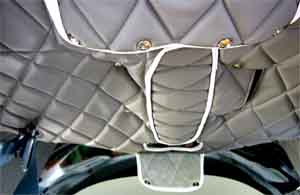 New: custom-made internal grey leather-lining of cockpit and 2 seat-benches passenger-compartment.
Engine: 274 hp. 6 Cylinders, 7,9 L
TBO 1.400 hrs or 12 years: then a check is needed
Time Since Overhaul: 220 hrs
since 1998 by the German Specialist Dachsel. New Keramic-covered Cylinders. NO (!!!=150 ml/h) oil consumption,
BIG valves
After 12 years (=2.010) or TBO 1.400 hrs (for privatpilots) an inspection has to be made, possibly with letting the engine mounted.

- Panel: new with the standard-T-arrangement:
- new horizon (suction),
- new HI (suction),
- new Turn/Bank (electric) (2001),
- new high-qualitity altitude-Indicator(1.000 €)
- New: Garmin GPS GNC250XL (4.500 $) with excellent 760-channel- Radio
in top of the panel
- New:
Garmin Transponder GTX 320A (1.800 $),
- New: additional Mike-buttons for Copilot (or instructor!):
1. on the Panel and 2.on top of the stick
Intercom incl. for 2 Passengers.- 2.Original-DO27-Antenna on top.
____________________________
NO use for any comercial purposes: no short comercial circuits, no parachute-dropping, no damage-history, no frequently changing users:
Since end of Military-use
1973-76: 1 owner (Ludwig Freiherr von K.)
1976-97: 1 owner (dentist) see picture
1997-99: 3 owners incl. me in Berlin
since 1999: 1 Pilot (that's me).
year 2000: painted body with Military-Signs
My DO is internally "civilian-like" with good instruments for long trips and externally military-like.
actual price is 28.000 € for the engine plus 17.000 € for the cabin... , wings, tail, windows, GPS...
incl.new avionics and additional equipment: 2 military-covers, 2 tailored cotton-wing-covers, 2 benches (leather and cotton) for 3 passengers => 45.000 Euro.
If that's too much or You'll use her only for parachuting, we could talk about reducing the price by equipment (GPS, Transponder, benches).
_____________________________ _______________
The DO27 is the right airplane for STOL, parachuting, sightseeing with excellent view with 5 Passengers! Photoflights, spacy luggage or even to sleep inside on big tours.... Non-profit - military - quality!
What could be a disadvantage: No autopilot possible: No plane for couch-potataoes
contact with chris (due to SPAM no direct link)
do27berlin (at) AOL.com